Renowned as the sporting capital of Australia and hailed for its unparalleled livability, Melbourne may be poised to claim the mantle of Australia's premier property hotspot.
In this article, we embark on a meticulous exploration of the Melbourne real estate market, unveiling the compelling reasons why astute investors should consider Melbourne real estate as part of their strategy.
Focusing on analysis and detailed insights, we shed light on the factors fueling Melbourne's property market growth, providing a comprehensive overview of the city's promising investment landscape.
Lackluster Performance Presents An Opportunity For Investors
In a market overshadowed by the pandemic boom, Melbourne has fallen short in terms of price growth. Our dedicated research team has recently analysed the data, revealing that Melbourne's property prices have recorded a modest 1.6% increase from the onset of Covid-19 until the end of May 2023.
Comparatively, other capital cities across Australia have experienced double-digit growth, with Sydney boasting a remarkable 16.5% gain and Adelaide soaring with a staggering 45.2% surge in property values.
You might be wondering why is this seemingly lackluster growth in Melbourne a positive development?
The answer lies in the untapped potential that emerges from the city's subdued performance compared to its counterparts. While some property owners in Melbourne may feel disheartened by these figures, astute investors recognise the inherent attractiveness of a market that has yet to witness the overwhelming boom seen in other cities.
This unique aspect positions Melbourne as an enticing destination for property investors seeking untapped opportunities and promising returns.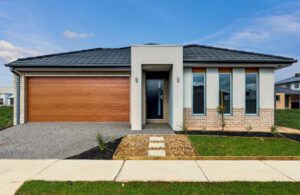 Melbourne Real Estate Is Undervalued When Compared to Other Cities
Melbourne stands out as a compelling prospect for property investors seeking untapped potential. Historically, Sydney has maintained higher property prices compared to Melbourne. However, the pandemic has widened the gap between the two cities, revealing an undervaluation in Melbourne's property market that presents a unique opportunity for investors.
As the global health crisis took hold in March 2020, Melbourne's housing prices were already 19.2% cheaper than those in Sydney. Over time, this gap grew even larger, reaching 30.3% by April 2022, marking the most substantial difference observed since May 2006. While the gap has narrowed slightly, Melbourne's median house values remain 29.6% lower than Sydney's as of May 2023, translating to a significant difference of approximately $382,500.
What sets Melbourne apart is the contrasting trend seen in other capital cities. The housing prices in Brisbane, Adelaide, and Perth have caught up with Melbourne over the course of the pandemic. Brisbane, once 47% cheaper than Melbourne, is now only 15% cheaper. Adelaide has closed the gap from 85% to 29%, and Perth has seen its prices decrease from an 88% difference to 50%.
These statistics shed light on the untapped potential that lies within Melbourne's property market. Historical cycles and trends indicate that Melbourne should not be as relatively inexpensive as it is in comparison to other capitals today. This discrepancy suggests a compelling opportunity for investors to capitalise on the undervaluation and potentially realise significant returns.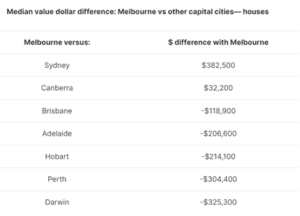 Seizing Opportunities in a Supply-Demand Imbalance
Melbourne's property market and broader national landscape have experienced a remarkable resurgence, primarily driven by a critical factor: the significant disparity between housing supply and skyrocketing demand.
According to Tim Lawless, the research director at CoreLogic, the number of homes advertised for sale in the capital city during May witnessed a noticeable decline of approximately 1800 properties compared to the previous month. Compared to the same period last year, the inventory levels have dropped by 15.3% and 24.4% below the previous five-year average for this time of year. This shortage of available housing stock has ignited a sense of urgency among buyers, giving rise to a palpable Fear of Missing Out (FOMO) that permeates the market.
The intensified competition has significantly influenced auction clearance rates, which have consistently remained at 70% or above over the past three weeks. This heightened demand has impacted not only the auction sphere but also private sales, where properties are selling faster. These trends highlight the need for astute investors to approach the market with diligence and expertise, ensuring they make well-informed decisions amidst the limited supply.
In such a market climate, it becomes imperative for investors to adopt a strategic mindset, leveraging comprehensive research and analysis to identify opportunities that align with their investment goals.
By closely monitoring market trends, staying abreast of property developments, and partnering with experienced professionals, investors can navigate the supply-demand imbalance and capitalise on undervalued properties that are still attainable.
Melbourne Experiences Positive Migration Trends with Influx of Interstate and International Migrants
Throughout the pandemic, Melbourne faced the toughest challenges among Australian cities, leading to relatively softer market conditions. With international migration virtually halted and strict lockdowns implemented by the Victorian government, the demand for residents wanting to stay in their home state diminished. As a result, the city witnessed a period of negative population growth.
However, a significant shift has occurred as Victoria's interstate migration has started to recover. Data from the latter part of 2022 highlights positive trends in people moving to Melbourne from other parts of Australia. This resurgence in interstate migration is a clear indicator of renewed confidence in the city's prospects.
Australia as a whole is projected to experience remarkable population growth, with an estimated increase of 524,000 people during this financial year. Victoria leads the way with an anticipated 160,000 new residents. Looking ahead, the country's population is expected to grow by approximately 2.18 million people over the next five years, averaging around 435,200 people annually or roughly 1,200 people per day.
This growth projection is supported by a record projected immigration of 1.5 million people over the same five-year period.
With Melbourne set to receive a substantial increase in population, there will undoubtedly be upward pressure on the city's property market. As more people choose to call Melbourne home, the demand for housing and properties is expected to rise, potentially leading to a resurgence in the real estate sector.
These positive migration trends are a testament to the enduring appeal and opportunities Melbourne offers as a vibrant and cosmopolitan city.

Unlock the Untapped Potential of Melbourne's Resurgent Property Market
Melbourne's property market is undergoing a remarkable resurgence, presenting an unparalleled opportunity for investors to achieve their financial goals. With positive migration trends, projected population growth, and a recovering economy, the city is poised for remarkable growth. While the market as a whole holds promise, there are specific areas within Melbourne that offer exceptional value and potential for substantial returns.
At National Investment Advisory, we recognise the importance of tailored advice that aligns with your unique investment objectives. Our expert team is here to guide you through the intricacies of the Melbourne property market, ensuring you make well-informed decisions that propel your success.
Now is the time to seize the power of Australia's resurgent property market. By partnering with National Investment Advisory, you gain access to personalised strategies that put you ahead of the curve.
Take the first step towards achieving your investment goals by contacting National Investment Advisory today.
Our experienced team is ready to empower you with the knowledge and expertise needed to thrive in the exciting Australian property market. With a focus on tailored advice and personalised strategies, we will guide you towards financial success and help you unlock the potential that awaits in this thriving real estate sector.
Whether you're looking to capitalise on the opportunities in Melbourne or explore other promising locations across Australia, our dedicated team is here to provide you with the guidance and support you need.
Book your free strategy session today : https://nationalinvestmentadvisory.com.au/strategy-session/