For the smartest, simplest property wealth and investment strategies, the National Investment Advisory is your perfect partner.
When you engage NIA to help build your wealth, you'll be working with a team of property professionals who specialise in helping first timers and established property investors alike, dedicated in the mission to boost your capital growth and cash flow – quickly.
Getting to know you and how you want to live is the first step to ensuring your financial success, because knowing you enables us to support you, educating you throughout your entire property and financial journey.
Put simply, we're your property-savvy partner and we're here to help you build wealth on the way to a lifestyle you really want.
Turn your income into wealth for life
Property wealth planners, focussed on your financial freedom
With a smart property investment advisory team by your side, life has no limits!
To build wealth for life, start here
The National Investment Advisory is your perfect partner in building wealth, with a suite of proven property and investment strategies, powered by leading-edge industry expertise. NIA helped me build a sustainable multiple-property portfolio, supporting me like a partner with ongoing educational advice. They went way beyond the investment transaction, using their team's combined expertise to ensure I scored my financial goals and started living my best life. Why NIA is one of Australia's leading Property Investment Wealth Planners
Your 6 simple steps to financial success
From first-time property buyers to people planning for retirement, our leading-edge LEAP Roadmap has helped more than 500 people just like you achieve a financially secure, truly abundant life.
Here's how it works, in 6 simple steps.
The LEAP Roadmap transforms your income into capital growth & cash flow. Quickly!
With the right property wealth advisor, you can invest to build wealth with confidence.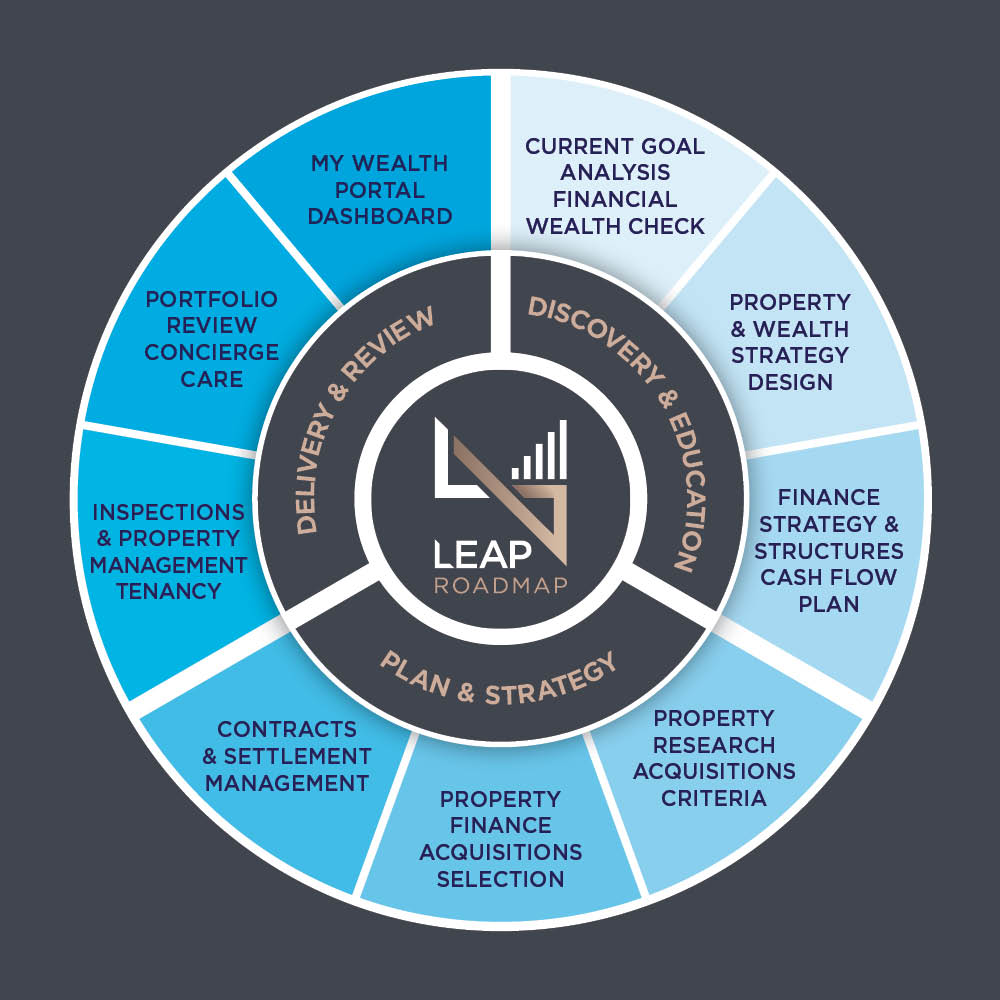 The LEAP Roadmap has helped build big wealth for more than 500 investors & counting…
Life-changing passive income is our passion
If you're a hard-working professional wanting help in your first property investment, or you're already investing but want to build bigger, faster wealth, the National Investment Advisory was formed specially to help you hit your 'dream' financial success.
Our sole mission is to show you how to create secure passive wealth, larger capital, and maximised cash flow – delivering true financial freedom. NIA is not about getting rich quick, we guarantee stable, diversified, expertly planned strategies that precisely align with your goals.
The life you want is why we're here!
I created the National Investment Advisory to help everyday Australians just like you secure a 'dream' financial future.
I paid $86k for my first property in my early 20s at an unimaginable 17% mortgage rate. I was horrified but also intrigued, and the experience began a life-long intellectual love for property & finance.
Over the years I've built a multi-million-dollar property portfolio using the proven strategies I've developed… please get in touch with me anytime and I'll explain how we can do the same for you, too.

I am so happy I did my research and found Matt Bower and his team at NIA. With the help of Matt and his impressive expertise as a property strategist and mentor, I have purchased 2 properties dual purchase strategy through NIA. Now put me in a strong position to secure my third investment. Matt's knowledge & support is amazing and my investment journey with his help has been a smooth process. Matt, Geoff, and the team guided me every step of the way and answered all my questions to give me confidence that I found a trusted partner to help me move ahead. Having Matt's finance and property expertise combined with the NIA finance team and their specialist mortgage planner Troy Marchmont. It made the numbers so simple, easy, and safe to move forward with affordable options. I would highly recommend National Investment Advisory for anyone thinking about buying an investment property. You are in safe hands!
Matt Bower and his team of advisors (including mortgage broker, Troy Marchmont) have been a joy to deal with. From my experience of working with them in the months leading up to the purchase and until now, they have been professional, knowledgeable, approachable, accommodating of my busy work schedule and understanding of the jitters that a first-time investor would have. Two years on, they continue to reach out to discuss the continuation of the strategy laid out at the start of my working relationship with them. Looking forward to continuing my journey under Matt and his team's guidance.
This was our first time buying an investment property. The experience has been 5 star from the first phone call with Matt and his team until now. Our property had tenants lined up before the house was completed and at a higher weekly rent than originally expected. NIA does all the hard work, we just had to decide on the property, sign the documents and sit back and let it happen! Very professional team. Looking forward to working with Matt and the team in the future.
Zachary Jon VAN BAALEN
25/07/2022
I have been working with Matt and the NIA team over the last couple of years with great results. We recently finished construction of a property on the Sunshine Coast with tenants sourced in under a week and well over the expected rental yield. There has also been considerable capital growth consistent with the advice Matt provided. The team presented well detailed advise on multiple properties and supported all aspects of the project including finance, planning, build oversight and appointment of property managers. I will happily work with Matt and the team in the future.
Matt and Geoff at NIA were absolutely amazing. Selecting an investment property during COVID lockdown with the uncertainties and lack of expertise. It was nothing but confidence and reassurance. They have made our entire journey smooth and easy. When we are ready for our next investment, we will definitely use the team again.
Like anyone, I was hesitant when using a partner for real estate investments because there are so many "influencers" and noise out there. Just like using a mortgage broker to access better loan deal, NIA have access to better real estate deals than you could find alone! The truth is there is no one right strategy for all. Matt at the NIA will work out the right strategy for you. Geoff and the rest of the NIA team will help you every step of the way while being patient with first time investors. They do not promise inflated returns, they are conservative and realistic. Even with COVID-19 lockdowns and building supply constrains they manage to keep the builders on track, bringing in the project from start to finish in 10 months. I was fortunate to get the chance to wonder around the property after completion and the finish was excellent, it was not your typical bulk-built house. The timing may have been fortunate with the drastic increase in the property market in the last few years but the results that NIA produced are still more than I could have ever imagined. The result was $130 more rent per week than their original calculations, increasing the net rental yield of the property above the expected 3-4% and creating a positive cash flow, which is key for long term investing. The most impressive part was the capital growth, with an increase of $273,270 from purchase price to completed bank evaluation in less than 1 year, that is incredible. The NIA are truly the best at what they do.
I have been introduced to Matt by one of my friends. Initially, I was not very confident about making my first transaction with a new partner, however now looking back I can say that overall my transaction was smooth, profitable, and the right decision in my journey. Matt and Geoff's conversations have been very professional and helpful. They undertook the heavy lifting throughout the entire process of the investment. They have been participating in doing multiple conversations throughout the pandemic with various parties involved. Specifically, I have been happy with no cost surprises in the overall transaction, their choice of location, and their availability throughout the process. I will recommend others to at least have a no-obligation discussion, and pursue further as they feel right. I don't think you will be disappointed 🙂 ..
Brendan Pfanner
19/03/2022
I lacked expertise in property investment and the time to research and view potential properties. NIA filled the gap. Initially, I was hesitant to work with an unfamiliar company and the beginning of a pandemic; however, the financial outcomes and working relationships have been positive and rewarding. Matt and his team were considerate, supportive, honest and organised throughout the strategic, purchasing and building process. I highly recommend NIA to navigate and support you through your investment journey.
My husband and I first met Matt Bower 5 years ago and have not looked back .We were a bit nervous at first but with Matts Knowledge and expertise and honesty we soon secured our first investment property Matt and his team made the whole buying process very easy as it can be daunting We then went on with securing our 2nd investment property and again with his team ,broker in securing our loans refinancing made everything possible They are helping us reach our retirement goals We would highly recommend Matt and his team to achieve your portfolio Teena &Paul
Shaun Thompson
03/02/2022
Matt Bower and the NIA team have been amazing. Their knowledge and expertise in investment strategy makes them a trustworthy advisor team you want for life. Their specialist knowledge around targeting real growth areas and real investment grade property is truly eye opening for a first-time investor trying to achieve this on their own. Matt made us feel very comfortable and confident in securing a two-purchase strategy even as first-time investors. The plan was made simple and easy to follow and was affordable. Our first two properties have outperformed the market and exceeded our expectations in quality development, rental returns and rise in value. Even though we were extremely nervous and conservative. The leadership and education focused advice NIA showed us gave us security and makes us wish we should have started sooner. We are now well on our way to our next purchase and early retirement is very much possible. Thankyou Shaun and Steph Gold Coast, Queensland
Years Knowledge & Experience
Combined Loans Transacted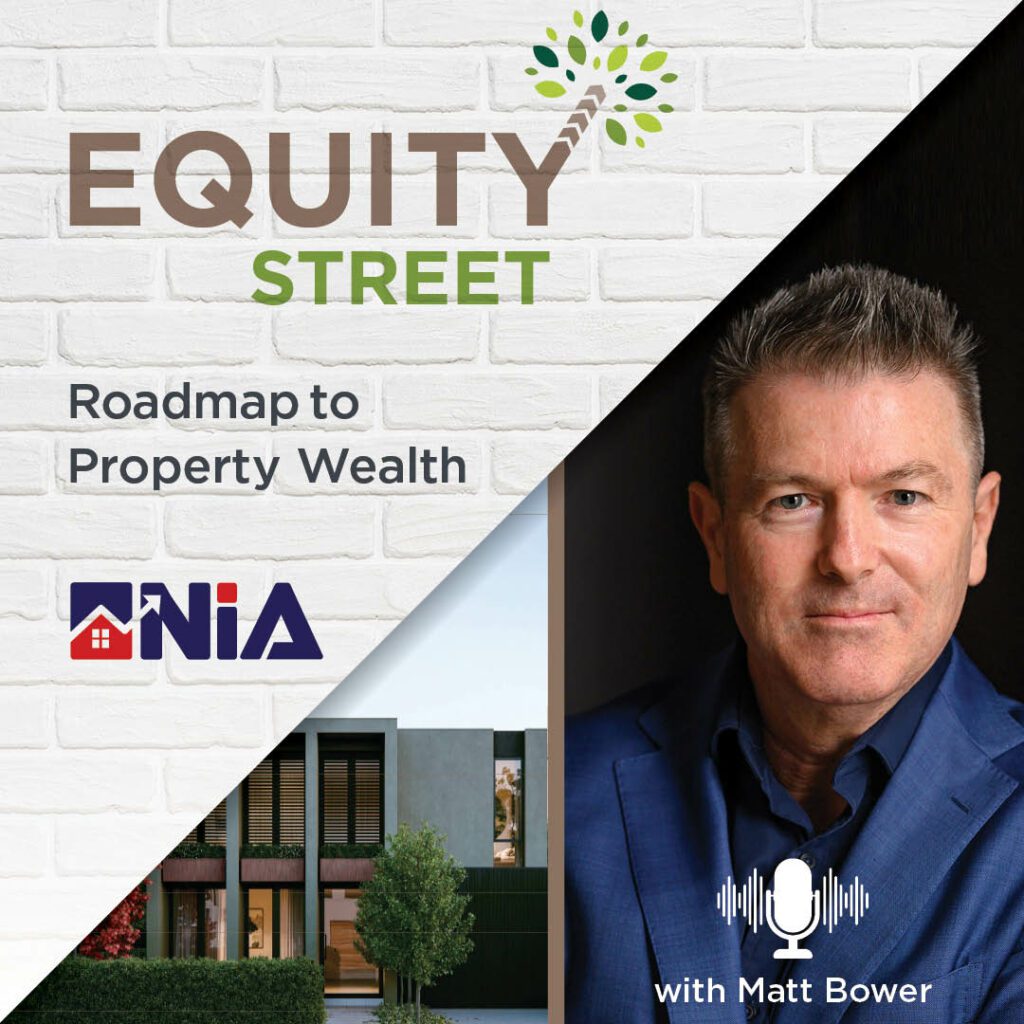 Your Roadmap to Property Wealth
Welcome to Equity Street where we answer the questions of real estate investors across Australia and provide the roadmap to property wealth.
Your questions are answered by Matt Bower, one of Australia's leading property experts who has secured over $798 million in property across Australia for his clients.
Matt is also the founder and Managing Director of leading advisory firm National Investment Advisory.


CHOOSE SUCCESS TODAY, CALL NIA!
Your road to financial freedom starts here
BOOK A FREE STRATEGY SESSION
Grab this priceless free session today, call NIA
BOOK A FREE STRATEGY SESSION
Grab this priceless free session today, call NIA
The National Investment Advisory specialises in helping people just like you make the right financial choices and restructuring decisions, to ensure you earn much more money across your property portfolio.
Your Free Strategy Session is our way of letting you know all the ways we can help.
No strings. No catches.
Just 60 minutes chatting with the experts about your future.
And that's a promise.