For the smartest, simplest property wealth and investment strategies, the National Investment Advisory is your perfect partner.
When you engage NIA to help build your wealth, you'll be working with a team of property professionals who specialise in helping first timers and established property investors alike, dedicated in the mission to boost your capital growth and cash flow – quickly.
Getting to know you and how you want to live is the first step to ensuring your financial success, because knowing you enables us to support you, educating you throughout your entire property and financial journey.
Put simply, we're your property-savvy partner and we're here to help you build wealth on the way to a lifestyle you really want.
Turn your income into wealth for life
Property wealth planners, focussed on your financial freedom
With a smart property investment advisory team by your side, life has no limits!
To build wealth for life, start here
The National Investment Advisory is your perfect partner in building wealth, with a suite of proven property and investment strategies, powered by leading-edge industry expertise. NIA helped me build a sustainable multiple-property portfolio, supporting me like a partner with ongoing educational advice. They went way beyond the investment transaction, using their team's combined expertise to ensure I scored my financial goals and started living my best life. Why NIA is one of Australia's leading Property Investment Wealth Planners
Your 6 simple steps to financial success
From first-time property buyers to people planning for retirement, our leading-edge LEAP Roadmap has helped more than 500 people just like you achieve a financially secure, truly abundant life.
Here's how it works, in 6 simple steps.
The LEAP Roadmap transforms your income into capital growth & cash flow. Quickly!
With the right property wealth advisor, you can invest to build wealth with confidence.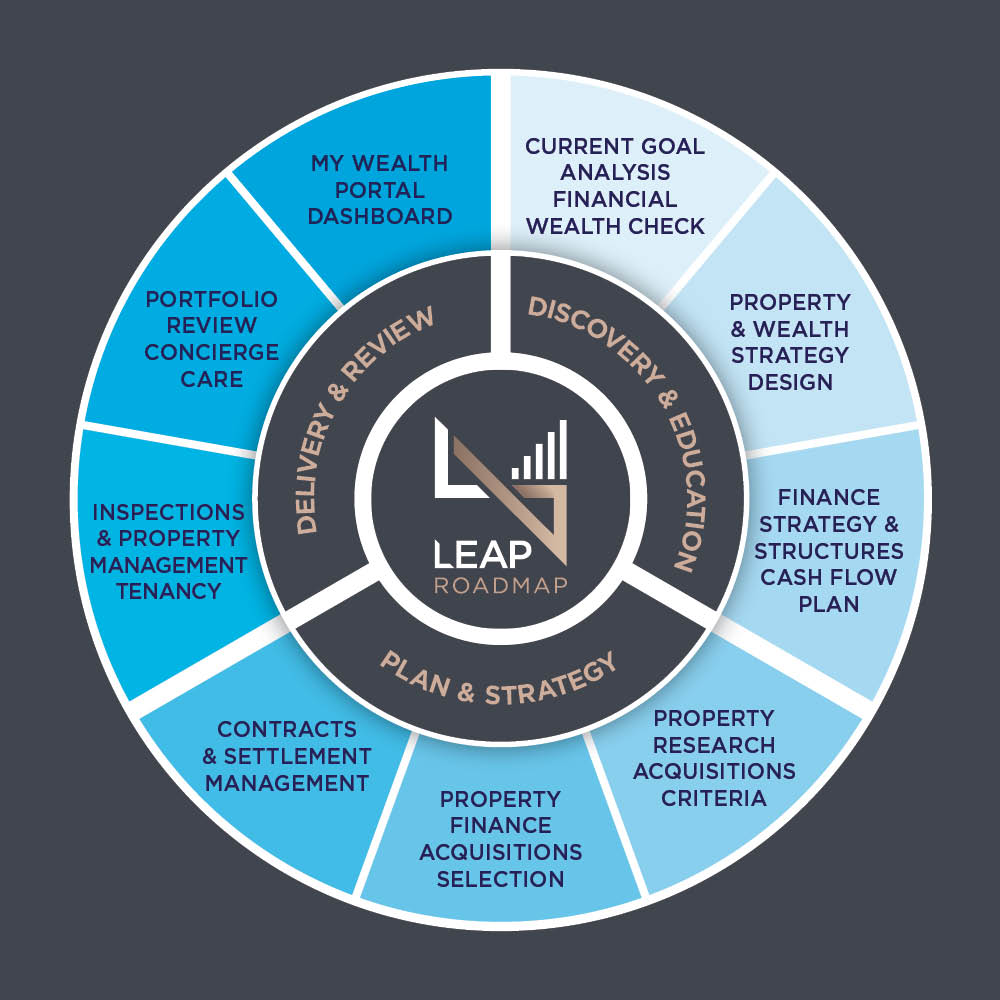 The LEAP Roadmap has helped build big wealth for more than 500 investors & counting…
Life-changing passive income is our passion
If you're a hard-working professional wanting help in your first property investment, or you're already investing but want to build bigger, faster wealth, the National Investment Advisory was formed specially to help you hit your 'dream' financial success.
Our sole mission is to show you how to create secure passive wealth, larger capital, and maximised cash flow – delivering true financial freedom. NIA is not about getting rich quick, we guarantee stable, diversified, expertly planned strategies that precisely align with your goals.
The life you want is why we're here!
I created the National Investment Advisory to help everyday Australians just like you secure a 'dream' financial future.
I paid $86k for my first property in my early 20s at an unimaginable 17% mortgage rate. I was horrified but also intrigued, and the experience began a life-long intellectual love for property & finance.
Over the years I've built a multi-million-dollar property portfolio using the proven strategies I've developed… please get in touch with me anytime and I'll explain how we can do the same for you, too.

I have been introduced to Matt by one of my friends. Initially, I was not very confident about making my first transaction with a new partner, however now looking back I can say that overall my transaction was smooth, profitable, and the right decision in my journey. Matt and Geoff's conversations have been very professional and helpful. They undertook the heavy lifting throughout the entire process of the investment. They have been participating in doing multiple conversations throughout the pandemic with various parties involved. Specifically, I have been happy with no cost surprises in the overall transaction, their choice of location, and their availability throughout the process. I will recommend others to at least have a no-obligation discussion, and pursue further as they feel right. I don't think you will be disappointed 🙂 ..
Brendan Pfanner
19/03/2022
I lacked expertise in property investment and the time to research and view potential properties. NIA filled the gap. Initially, I was hesitant to work with an unfamiliar company and the beginning of a pandemic; however, the financial outcomes and working relationships have been positive and rewarding. Matt and his team were considerate, supportive, honest and organised throughout the strategic, purchasing and building process. I highly recommend NIA to navigate and support you through your investment journey.
My husband and I first met Matt Bower 5 years ago and have not looked back .We were a bit nervous at first but with Matts Knowledge and expertise and honesty we soon secured our first investment property Matt and his team made the whole buying process very easy as it can be daunting We then went on with securing our 2nd investment property and again with his team ,broker in securing our loans refinancing made everything possible They are helping us reach our retirement goals We would highly recommend Matt and his team to achieve your portfolio Teena &Paul
Shaun Thompson
03/02/2022
Matt Bower and the NIA team have been amazing. Their knowledge and expertise in investment strategy makes them a trustworthy advisor team you want for life. Their specialist knowledge around targeting real growth areas and real investment grade property is truly eye opening for a first-time investor trying to achieve this on their own. Matt made us feel very comfortable and confident in securing a two-purchase strategy even as first-time investors. The plan was made simple and easy to follow and was affordable. Our first two properties have outperformed the market and exceeded our expectations in quality development, rental returns and rise in value. Even though we were extremely nervous and conservative. The leadership and education focused advice NIA showed us gave us security and makes us wish we should have started sooner. We are now well on our way to our next purchase and early retirement is very much possible. Thankyou Shaun and Steph Gold Coast, Queensland
We highly recommend Matt and his team of professionals who are very knowledgeable in all aspects of property investment. The team does a fabulous job from developing strategy to suit the client's investment needs, performing due diligence, property selection, property presentation (the best I have seen in my dealings with so many advisors before), to the execution of the deal. They guide and provide support even after the handover of the property. Matt helped us to acquire a duplex property, which was handed over at the end of Dec 2020. To our surprise, the $$$ value of the property, post completion, exceeded more than our expectation. We managed to lease both the units within 2 weeks of handover and at the rental estimate provided to me during the property presentation (great yield). The property has been increasing in value since handover, which enabled us to continue with our property investment journey. We find Matt very responsive to our calls and always working in clients best interest. His expertise in property investment is second to none. He has developed a good relationship with all the stakeholders including developers and builders. Matt and his team made our experience effortless and all processes handled seamlessly with utmost professionalism. We have referred NIA to our family and friends; they have benefitted from NIA. We would gladly recommend Matt and NIA to anyone who wants to progress their property journey in a strategic and accelerated manner. Best Service where you can really see the growth in your investment portfolio. Happy Clients Praneet and Vinesh
I have been working with Matt and the team for a few years now and I can't speak more highly of them. They put my on the right path with an investment property and we are now working on number two. They have giving me peace of mind for the future. They help with the process from start to finish and work with you to achieve your next goal. Thank you!
Matt and Geoff at NIA have been a delight from start to finish! An investment property was something I had thought about, but not seriously, until my accountant put me on to NIA. Matt and Geoff walked me through every step of the process and took so much time to answer my many questions and alleviate all of my concerns. They were happy to go back to the drawing board and find more options until I landed on a property I was happy with. They have made the process of purchasing an investment property so simple and I have gone from it being just an idea to having a build complete and tenants signed in 12 months. Amazing after care and I'm so happy with the result!
A big thanks to Matt and his team of professionals in helping make our dream of property investors a reality. Will surely be continuing this partnership in future....Thanks again!!
After doing my due diligence, I was confident Matt and MyNia would be a perfect fit to begin my path into property investment. Matt has assisted me with a strategy that is tailored to my financial situation and has been informative and supportive throughout the whole process. I look forward to building my portfolio with Matt's help in the future
It has been a pleasure working with Matt and his team to buy my first property. They helped in all stages of the buying process, as well as the structure of the loan; with detailed individual locations that suited my goals and investment strategies for my next property. They set a realistic timeline and expectations, and achieved them. Baring a global pandemic everything went as planned, which is pretty amazing. I hope to work with them in future on the next property.
Years Knowledge & Experience
Combined Loans Transacted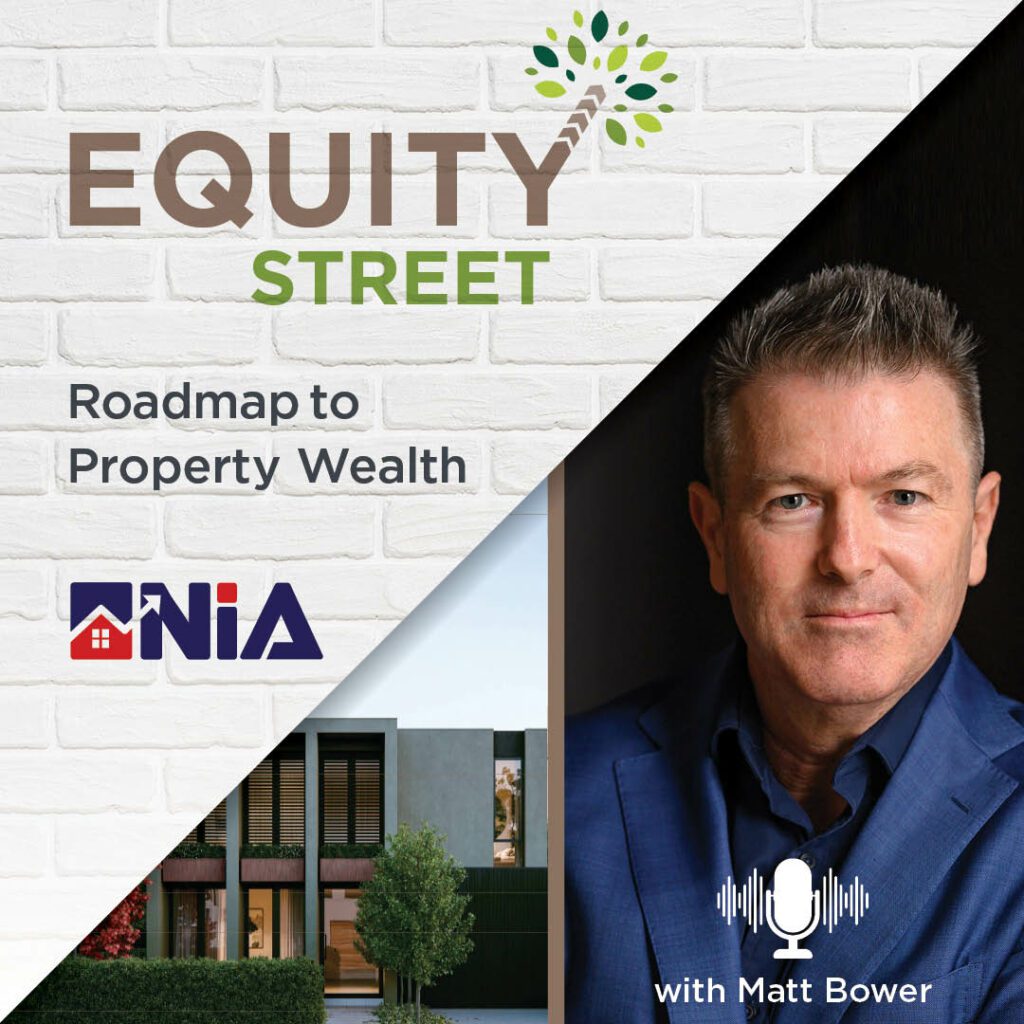 Your Roadmap to Property Wealth
Welcome to Equity Street where we answer the questions of real estate investors across Australia and provide the roadmap to property wealth.
Your questions are answered by Matt Bower, one of Australia's leading property experts who has secured over $798 million in property across Australia for his clients.
Matt is also the founder and Managing Director of leading advisory firm National Investment Advisory.


CHOOSE SUCCESS TODAY, CALL NIA!
Your road to financial freedom starts here
BOOK A FREE STRATEGY SESSION
Grab this priceless free session today, call NIA
BOOK A FREE STRATEGY SESSION
Grab this priceless free session today, call NIA
The National Investment Advisory specialises in helping people just like you make the right financial choices and restructuring decisions, to ensure you earn much more money across your property portfolio.
Your Free Strategy Session is our way of letting you know all the ways we can help.
No strings. No catches.
Just 60 minutes chatting with the experts about your future.
And that's a promise.