Welcome to our most recent blog, where we delve into the July Australian Property Market, providing valuable insights and analysis for discerning property investors. In this comprehensive blog, we'll explore the latest trends and developments in the real estate sector, uncovering exciting opportunities and potential challenges that lie ahead.
Dwelling Values and Market Performance:
The property market continues to dazzle investors, with dwelling values experiencing positive growth across major capital cities.
Sydney steals the spotlight once again, boasting a remarkable 1.7% increase in housing values in June alone. Since hitting the market floor in January, Sydney's median dwelling value has surged by an impressive 6.7%.
This rapid growth translates to a staggering rise of approximately $4,262 per week, making it an enticing prospect for property investors seeking substantial returns.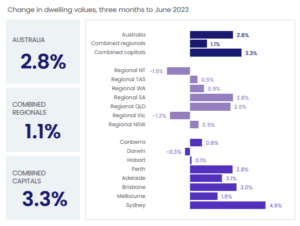 Lack of Supply Puts Upwards Pressure on Housing Values
The main factor driving the upward pressure on housing values is the lack of available supply. New capital city listings in June were nearly 10% below the previous five-year average, and total inventory levels are more than 25% below average. However, capital city sales in the June quarter are tracking 2.1% above the previous five-year average.
The construction sector is currently facing challenges, leading to delays in initiating new projects. Limited availability of new land exacerbates this issue, making it difficult to bring new developments to fruition. Furthermore, apartment approvals remain below the necessary levels to establish a balance between supply and demand. As a result, the demand for housing is expected to surpass supply for the foreseeable future.
Another significant factor impacting the property market is the rise in interest rates. Higher borrowing costs pose a hurdle for potential homebuyers, particularly due to limited borrowing capacities. This constraint forces property investors to adopt a cautious approach, causing them to stay on the sidelines for a little longer. The current lending environment presents challenges for those seeking financial support for their housing aspirations.
These combined factors create an environment where demand continues to outstrip supply. While difficulties in the construction sector and limited borrowing capacities may cause some short-term delays, it is important to monitor market conditions and adjust strategies accordingly. Property investors should stay informed, exploring opportunities that align with their financial capacities and market dynamics.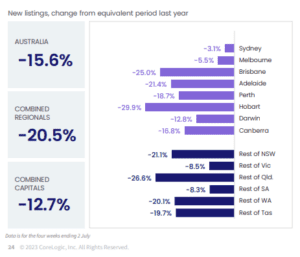 Regional Housing Values and Demographic Shifts
Regional housing values have also been trending higher, but at a slower pace compared to the capitals. The combined regional index has risen by a total of 1.2% since the recent low in February. This slower growth aligns with a shift in demographic factors.
After experiencing a boom in regional population growth during the pandemic, internal migration trends have normalised, resulting in decreased housing demand across regional markets.
Housing Values and Cyclical Highs
Most regions, except for Hobart, continue to have housing values below their recent cyclical highs. Hobart has recorded the largest cumulative decline, with housing values still holding 12.9% below the record high in May last year.
Perth is the only capital city where home values are currently at record highs, having recovered from a mild decline during the downturn. Adelaide home values are also close to reaching a new record high in July.
House prices in the majority of capital cities are experiencing an upward trajectory, signalling the potential for new record prices to be achieved within the next 12 months. This presents a promising opportunity for investors to carefully consider their options and strategise ways to maximise their property interests. With the market showing positive growth, investors should seize this moment to evaluate their investment portfolios and capitalise on the potential for substantial returns in the coming months.
Selling Conditions and Rental Market
Selling conditions have shifted in favour of vendors rather than buyers, with auction clearance rates in the high 60% range across the combined capitals in June. Vendors have become less flexible with their price expectations, resulting in a tightening of capital city discounting rates. Rental conditions across the nation remain diverse, but there is evidence of easing rental growth.
With that being said, vacancy rates across all capital cities remain well below 3%, which is considered a balanced market, and the power well and truly remains in the hands of the landlords. Most capital cities in the past 12 months have achieved a 10%+ increase in weekly rental amounts.

Capital City Market Highlights
Sydney: Housing values in Sydney continued to rise in June, although slightly slower than in May. The upper quartile of the market experienced the strongest growth.
Melbourne: Housing values in Melbourne have been trending higher over the past four months, with low levels of supply supporting the growth. Both house and unit values are showing positive performance.
Brisbane: Brisbane saw the second-largest monthly rise in dwelling values in June. Advertised stock levels remain significantly below average, providing limited choices for buyers.
Adelaide: Dwelling values in Adelaide are close to recovering the recent losses recorded during the downturn. Affordability and low supply have contributed to the market's resilience.
Perth: Perth is the only capital city where housing values have reached record highs. Affordability, strong migration, low supply, and tight rental conditions support the local market.
Hobart: Hobart was the only capital city to record a decline in dwelling values in June. Advertised stock levels have increased, leading to more challenging selling conditions.
Darwin: Darwin's housing values have been somewhat volatile but have risen over the past two months. Low stock levels and relatively affordable prices contribute to the local market.
Canberra: Canberra recorded a second consecutive month of growth in June, with every sub-region experiencing a rise in value.
Migration and Future Trends
Net overseas migration is expected to support housing values, and the undersupply of new homes is likely to continue. The unemployment rate is forecasted to remain below the long-run average, allowing most borrowers to maintain their mortgage repayments.
In conclusion, the July Australian Property Market Update presents a mixed landscape for savvy property investors.
While capital cities continue to experience upward trends in housing values, challenges in the construction sector and limited borrowing capacities create short-term hurdles.
However, the strong rental market, with low vacancy rates and increasing rental amounts, provides a favourable environment for landlords.
Property investors should carefully consider their options, capitalise on the potential for record house prices in the coming months, and evaluate regional markets for untapped opportunities. With mitigating factors such as net overseas migration and an undersupply of housing alongside a reasonably tight labour market, the market outlook remains promising.
Staying informed, adapting strategies, and monitoring potential risks will be crucial for maximising property investments in the dynamic Australian real estate landscape.
Book your strategy session today https://nationalinvestmentadvisory.com.au/strategy-session