Property investors are stepping into uncharted territory in the face of record interest rate rises. However, the landscape is not as daunting as it seems.
National Investment Advisory (NIA) stands ready to lead investors through these challenges and leverage the positive opportunities in the property market.
Despite the economic headwinds, the market has shown surprising resilience, with combined capital city property values soaring by 3.5% year-to-date. This article delves deeper into the dynamic interplay between interest rates and the property market, highlighting the optimistic outlook for investors and the strategic guidance offered by NIA to navigate this new phase.
The Impact of Interest Rate Rises on Property Market Resilience
As the new Reserve Bank governor, Michele Bullock, prepares to deliver her first interest rate decision, the property market remains undeterred.
Borrowers may have experienced the last interest rate hike, with forecasts indicating potential rate cuts under Ms. Bullock's leadership.
Economists are currently divided in their predictions for the path forward on interest rates.
The consensus suggests one or two more hikes over August and September, followed by rate cuts in the following year.
Notably, ANZ believes the RBA may have concluded its hiking cycle, favoring an extended pause at 4.1% with cuts planned for the end of 2024.
Conversely, Westpac foresees further rate hikes peaking at 4.6%, followed by cuts by mid-next year, projecting the cash rate to end 2024 at 3.85%. In contrast, CBA and NAB anticipate even more substantial cuts, with both forecasting a cash rate of 3.1% by the end of 2024.
Though borrowers have faced challenges with soaring monthly repayments, the property market has demonstrated resilience, and the positive outlook remains intact.
NIA's deep analytical insights and strategic expertise equip investors to seize opportunities amid uncertain economic times.
Promising Window of Opportunity: Properties Below Recent Peaks
Amidst the waves of interest rate increases, there emerges a silver lining for astute property investors. The current market reveals that, on average, properties are still below their recent peaks, creating a promising window of opportunity. This moment calls for wise investors to capitalise on potential bargains before the market regains momentum.
As the market surges towards new heights, NIA's professional acumen will prove invaluable in navigating this dynamic landscape and optimising investment decisions.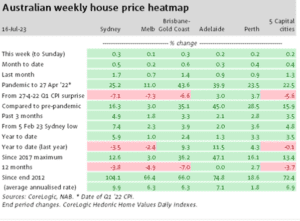 Market Activity Surge: Capital City Clearance Rates and Investor Confidence
With interest rate hikes failing to dampen market enthusiasm, the property market showcases vibrant activity.
Preliminary capital city clearance rates have consistently held above 70% for 11 consecutive weeks, signalling robust demand and unwavering buyer confidence.
Property investors stand poised to capitalise on the market momentum. NIA's expertise in identifying prime investment opportunities will enable clients to make strategic choices that align with their financial goals.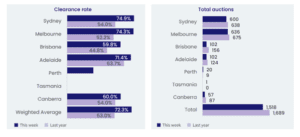 The Rental Market Advantage: Boosting Investor Income
Amid the backdrop of rising interest rates, the rental market emerges as a bright spot for property investors. The market has experienced significant tightening, leading to exceptionally low vacancy rates in both houses and apartments. As a result, asking rents have surged rapidly, providing investors with a much-needed buffer against the impact of interest rate increases. The rental income boost has mitigated financial pressures, enabling investors to maintain healthy cash flows.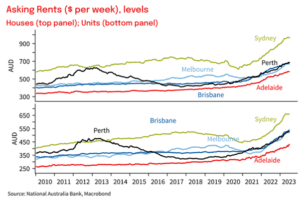 A Positive Outlook for Steady Rental Growth
The outlook for the rental market remains optimistic, with expectations of steady growth despite a potential slowdown. The current market conditions, characterised by low vacancy rates and limited new property supply in the medium term, indicate continued rent increases.
Buoyed by NIA's analytical prowess and comprehensive market projections, property investors are well-positioned to leverage rental opportunities and maximise their investment returns.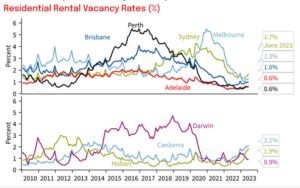 NIA: Empowering Investors with In-Depth Market Insights
In the face of record interest rate rises, NIA emerges as a guiding light for property investors. Our firm commitment to empowering clients with in-depth market insights and personalised strategies sets us apart as a leader in the industry.
NIA understands that each investor's journey is unique, and we prioritise delivering tailored solutions that align with individual financial aspirations.
Capitalising on Positive Opportunities: The NIA Advantage
NIA's expert team of analysts and advisors works diligently to identify and capitalise on positive opportunities in the property market.
Our comprehensive approach to risk management and extensive market research enables clients to make informed decisions. As the market landscape evolves, NIA remains at the forefront of analysis, continually providing clients with strategic guidance to navigate fluctuations and capitalise on emerging trends.
In the face of record interest rate rises the property market continues to present a wealth of positive opportunities for investors.
With property values increasing by 3.5% year-to-date and combined capital city clearance rates consistently holding above 70%, optimism remains steadfast.
NIA stands as a beacon of support and guidance for property investors, unlocking the market's potential through in-depth market insights, tailored strategies, and unwavering commitment.
Together with NIA, investors can confidently navigate this new phase, leveraging the market's resilience and capitalising on opportunities for long-term prosperity.
As we embark on this journey, NIA remains dedicated to delivering exceptional value and ensuring our clients' financial success in the dynamic world of property investment.
Stay up to date with the Australian property market by visiting: www.nationalinvestmentadvisory.com.au